Upholstery Cleaning in Hoboken, NJ
Upholstered furniture pieces are beautiful to look at and are often among the prized possessions in your home. But no matter how hard you try, furniture is going to get dirty, especially if you have growing kids or pets.
So if you are tired of sitting on a coffee stained sofa or can't stop sneezing due to all the pet hairs on your carpet, you've come to the right place!
Tulip Carpet Cleaning of Hoboken is a professional cleaning service provider for your upholstered furniture like sofas, ottomans, recliners, arm chairs and more. We pride ourselves in providing top of the line furniture cleaning and care services using state-of-the-art industrial equipment and eco-friendly products. Our techniques enable us to release and remove dirt, pollutants and the toughest of stains to turn your upholstery into looking like new decor items.
Advantages of Professional Upholstery Cleaning
Regardless of how much or how little you use them, upholstered furniture attracts dirt, pet hair and pollutants, traps the naturally occurring body oils and are a magnet for spilled coffee dips and other staining items. They can also trap odor and start to smell.
Regular cleaning methods that are used to clean normal furnishings like spraying cleaning liquid and wiping with a wet cloth are not effective with upholstery fabric or leather. In fact, these can be damaging to furniture upholstery? This is why it is essential for you to get them cleaned by a professional cleaning service provider, like ours in Hoboken, NJ.
Getting your sofas, carpets, ottomans and other items cleaned by a professional upholstery cleaning service provider will not only revitalize your furniture but also extend their life by getting rid of substances damaging the material.
Cleaner, fresher furniture means no more embarrassing stains, pet hairs or smells. Everything in the house looks brighter and better!?Not only do the items look better, they also make the air in your house cleaner as the pollutants and allergens trapped in them get removed. This ensures you breathe cleaner air which will prevent recurring allergies.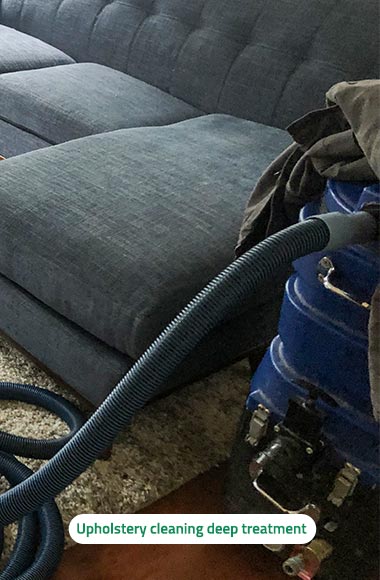 Why Choose Tulip Carpet Cleaning of Hoboken?
As mentioned, upholstered furniture requires special care while cleaning. Regular cleaning methods for hard surfaces can be damaging to the items and can bring down the quality as well as reduce how long they will last.
At Tulip Carpet Cleaning of Hoboken, we use special cleaning products that are eco-friendly and non-hazardous to professionally clean your upholstered furniture. We have also developed time-tested techniques that ensure cleaning of deep stains, odor removal as well as release and removal of trapped dirt and allergens to give you an outstanding result that means leaner, better and fresher upholstery.
We prioritize customer satisfaction over everything else. By choosing Tulip Carpet Cleaning of Hoboken, you can be sure that your expectations will be completely met and satisfied.
What Upholstery do We Clean in Hoboken, NJ
Our services extend to various kinds of upholstered furniture, rugs, carpets, etc. for residential and commercial purposes.
These include:
Sofas
Couches
Overstuffed Chairs
Bar Stools
Recliners
Cushions
Sectionals
Loveseats
Dining Chairs
Leather Furniture
Mattresses
Ottomans
Car Seats
Office Chairs
To ensure satisfactory services that deliver outstanding results for our professional upholstery cleaning services, we use a variety of techniques that remove the deepest of stains without damaging the furniture.
These techniques include deep cleaning, steam cleaning, deodorizing, shampoo, odor removal, and enzyme treatment. As a final touch, we also offer scotchgarding to help protect the fabrics from future stains before they happen.
Inquire Now!
So, say goodbye to embarrassing stains and smells and say hello to cleaner and better - looking furniture today!
Call us at 201-642-2002 to get your upholstered furniture cleaned professionally by our Hoboke, NJ upholstery cleaning specialists.
Upholstery Cleaning FAQs
Can you remove tough stains and pet hair from upholstery during the cleaning process in Hoboken, NJ?
Yes, our upholstery cleaning services in Hoboken, NJ are equipped to handle tough stains and pet hair. Our skilled technicians utilize specialized cleaning solutions and techniques to effectively remove a variety of stains, including those caused by spills, food, or pets. We also employ advanced equipment designed to extract pet hair and dander, ensuring a thorough cleaning process. Rest assured, we aim to restore the cleanliness and freshness of your upholstery, leaving it free from stubborn stains and pet-related debris.
How frequently should I schedule professional upholstery cleaning for my furniture in Hoboken, NJ?
The frequency of professional upholstery cleaning for your furniture in Hoboken, NJ depends on factors such as usage, household members, and any specific concerns. As a general guideline, it is recommended to have your upholstery professionally cleaned every 12 to 18 months. However, heavily used furniture or homes with pets or allergies may benefit from more frequent cleaning. Our experts can assess the condition of your upholstery and provide personalized recommendations to ensure its longevity and maintain a clean and healthy environment.
Are your upholstery cleaning products safe for children and pets in Hoboken, NJ?
Absolutely. We prioritize the safety and well-being of your loved ones, including children and pets, during our upholstery cleaning services in Hoboken, NJ. We use eco-friendly cleaning solutions that are specifically formulated to be safe for both humans and animals. These products are non-toxic and free from harsh chemicals, ensuring a clean and healthy environment for your family. You can have peace of mind knowing that our cleaning process is designed to be safe and effective while delivering exceptional results for your upholstery.