Water Damage Restoration in Hoboken, NJ
It's no secret that Hoboken has seen its fair share of water damage over the years. With the ever-changing weather and aging infrastructure, there's always a risk of flooding. If you've been affected by water damage, it can be a real hassle as the damage can be extensive.
Water issues can cause real havoc in your home, destroying items from furniture to cars to equipment. If it gets to the walls and room surfaces, water can weaken the core foundation of the house.
Water issues are caused by things as simple as a pipe bust or fire extinguisher to more complex things like flooding. All in all, water damage is a terrible thing to experience and it can cause significant mold problems if left unchecked. The longer you wait on water problems, the more costly it will be to mitigate.
Why Choose Our Water Damage Restoration Services
Tulip Carpet Cleaning of Hoboken is the go-to for water damage restoration services in northern New Jersey. With years of experience under our belts, we help homes and businesses with water mitigation services. Our experts are trained and equipped to handle any type of water damage, no matter how complex the situation seems.
Whether you are dealing with a leaking pipe or a flooded basement, we are the professionals to help. No building is too huge for us or a water problem too complex for us to handle. We have the expertise and modern equipment to handle all. We also do flood restoration in Hoboken and the surrounding areas.
So whether you're a homeowner, business owner, or realtor in Hoboken and nearby locations in Hudson County, be sure to contact Tulip Carpet Cleaning of Hoboken.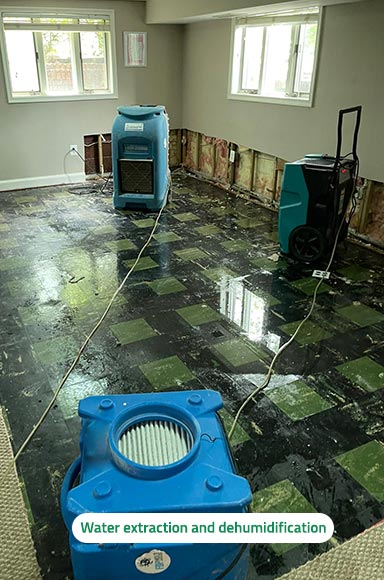 Stages of Water Damage Remediation
Every water damage problem is unique and requires special attention. This is why we have a thorough procedure on water damage remediation that we stick by. Here is our process:
Damage Estimation
Once we receive a call from you, we dispatch a team of experts to your location. They assess the extent of the damage and help come up with an estimation of the cost of the work required.
Water Removal/Extraction
Once the extent of the damage is known, we go ahead with water removal. Here, we use state-of-the-art water extraction equipment that drains every drop of water, hidden or otherwise.
Clean-up and Sanitizing
Once water is removed, we then proceed to water damage cleanup. Here, we clean up all the affected parts and sanitize them to avoid further damages.
Drying
Water damaged properties need to be monitored carefully to make sure that they are dried efficiently to prevent mold growth. We provide an effective, efficient system to facilitate drying your water-damaged property!
Final Inspection
Properly managing humidity and temperature is essential for water damage restoration. We use a proven system that will efficiently facilitate drying, ensuring we restore your property quickly.
We also do a final inspection, so you don't have to deal with mold or other expenses later on!
When you're looking for water damage restoration companies near you, think Tulip Carpet Cleaning of Hoboken.
Can You DIY Water Problems?
While some water problems can be solved at home, many are complex and require the services of a professional water extraction company. On paper, doing it yourself feels like the cheapest option. But you will need to have the expertise and equipment to pull this off.
If you don't clean up properly, the effects will be catastrophic as mold and property damage will be enormous, and their repair will be expensive. In the end, it will not have been worth it to DIY water damages.
Experienced Water Damage Mitigation
If you have recently experienced water damage in your home, it is important to take swift action to minimize the potential of long-term damage. We offer a wide range of water damage restoration services that can help you get your home back to its original condition as quickly and efficiently as possible.
In our continuing efforts to improve our availability for emergency water damage restoration services, we have chosen Flood Damage Pro as our local partner. They specialize in large and complex restoration jobs, as well as making quick work of smaller damage situations.
Don't wait - Contact Tulip Carpet Cleaning of Hoboken today for more information and to schedule a consultation.