Carpet Cleaning in Hoboken, NJ
Are you tired of looking at your dirty and stained carpets? At Tulip Carpet Cleaning of Hoboken, we specialize in providing top-notch cleaning services and we're here to make your carpets look as good as new. So, sit back, relax, and let us work our magic on your carpets!
Why Choose Tulip Carpet Cleaning of Hoboken?
When it comes to carpet cleaning, experience matters. With over a decade of experience in the industry, our Hoboken cleaning team has honed its expertise to deliver outstanding results. We know the ins and outs of carpet cleaning, ensuring that every job is done to perfection.
At Tulip Carpet Cleaning of Hoboken, we believe in using the latest and most advanced equipment to achieve the best results. Our cleaning equipment and eco-friendly cleaning solutions are designed to effectively remove dirt, stains, and odors from your carpets, leaving them fresh and revitalized.
The Carpet Cleaning Process
Our carpet cleaning process begins with a thorough pre-inspection and evaluation of your carpets. We'll assess the type of fibers, any specific problem areas, and determine the most appropriate cleaning method for your carpets. Next, we'll apply a pre-treatment solution to loosen dirt, stains, and embedded debris. This step ensures that even the toughest grime is easily lifted during the cleaning process.
We use the hot water extraction method, also known as steam cleaning, to deep clean your carpets. Our high-powered cleaning machines inject hot water and eco-friendly cleaning solutions deep into the carpet fibers. The powerful suction then extracts the dirt, leaving your carpets fresh and clean.
For those stubborn stains that need extra attention, we provide spot treatment. Our experts will carefully treat individual spots and stains to ensure their complete removal. No stain is too tough for us!
We understand that time is valuable, which is why we use quick-drying techniques to minimize downtime. Our powerful equipment effectively removes moisture from your carpets, allowing them to dry faster.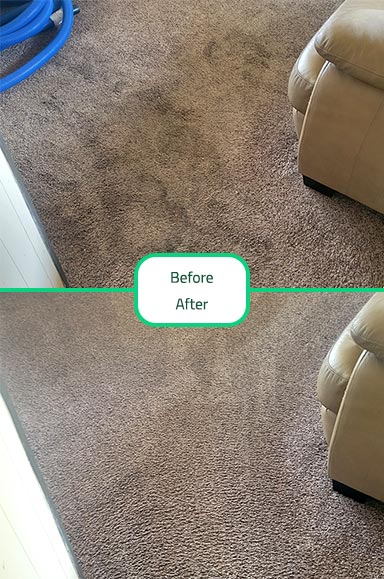 The Benefits of Professional Carpet Cleaning in Hoboken, NJ
Enhanced Indoor Air Quality
Did you know that carpets can trap allergens, dust mites, and other airborne particles? Regular vacuuming can only do so much. Professional carpet cleaning goes deep into the fibers, removing these pollutants and improving the air quality in your home. Breathe easy with our thorough cleaning services!
Prolonged Carpet Lifespan
Investing in professional carpet cleaning can significantly extend the lifespan of your carpets. Over time, dirt and debris can accumulate and cause the fibers to deteriorate. Our expert cleaning techniques remove these damaging particles, helping your carpets stay vibrant and durable for years to come.
Stain Removal
Got a stubborn stain that just won't budge? Our carpet cleaning specialists are trained in the art of stain removal. Whether it's a coffee spill, pet accident, or ink stain, we have the tools and knowledge to tackle even the toughest stains. Say goodbye to unsightly marks on your carpets!
Elimination of Odors
Carpets can absorb odors from pets, cooking, and other sources. Our professional cleaning process not only removes dirt and stains but also eliminates unpleasant odors, leaving your carpets smelling fresh and clean.
Get the best carpet cleaning services in Hoboken, NJ
Say goodbye to dirty, stained carpets and hello to fresh, revitalized floors with Tulip Carpet Cleaning of Hoboken. Our team ensures exceptional results every time. Don't wait any longer to give your carpets the care they deserve. Contact us today and let us work our magic on your carpets and rugs!
Carpet Cleaning FAQs
Why should I choose your carpet cleaning services in Hoboken, NJ over other local providers?
Our carpet cleaning services in Hoboken, NJ stand out due to our commitment to quality, extensive experience, and exceptional customer satisfaction. We use advanced techniques, eco-friendly products, and state-of-the-art equipment to ensure deep cleaning and removal of stubborn stains. Our highly trained technicians prioritize attention to detail and go the extra mile to restore the appearance and freshness of your carpets.
How long does it typically take for carpets to dry after professional cleaning in Hoboken, NJ?
The drying time after professional carpet cleaning in Hoboken, NJ can vary depending on factors such as carpet thickness, humidity levels, and air circulation. Generally, carpets can take anywhere from 4 to 12 hours to dry completely. However, our efficient cleaning methods and advanced drying techniques help expedite the process, reducing the drying time and allowing you to resume regular use of your carpets sooner.
Are your carpet cleaning services in Hoboken, NJ priced competitively compared to other local providers?
Yes, our carpet cleaning services in Hoboken, NJ are competitively priced without compromising on the quality of our work. We offer transparent pricing, tailored to the size and condition of your carpets, ensuring you receive the best value for your investment. While we may not always be the cheapest option, our dedication to delivering superior results, along with our exceptional customer service, makes us a preferred choice among residents in Hoboken, NJ.