Mold Remediation Services in Hoboken, NJ
Are you looking for some of the best mold remediation services in Hoboken, NJ, and nearby areas? The experts at Tulip Carpet Cleaning of Hoboken will provide the mold remediation services you need, whether it's for your home or your business. Let us take care of all your needs. We have demonstrated our commitment to exceeding performance expectations and maintaining superior knowledge of safety practices and procedures. Our trained and expert mold specialists use state-of-the-art tools and eco-friendly chemicals that are safe for your family, pets, and environment, so you can rest easy knowing your home is always protected from harmful pests.
How does Mold Affect Our Lives?
A mold is a fungus. Black mold is one of several species with a dark green or black appearance. The growth of mold occurs in areas with a lot of moisture, such as around leakages in roofs, windows, and pipes, or flood-damaged areas. Among other things, mold can also develop in dust, wallpaper, drywall, paints, carpet, fabric, and ceiling tiles. If mold is not detected and treated in time, it can cause serious health problems, such as insomnia, hair loss, weight gain, memory loss, and concentration issues. In addition, mold exposure can irritate the eyes, throat, nose, and lungs in both mold-allergic and non-allergic individuals. A home's value can also be affected by prior mold issues. In New Jersey, a seller is required to disclose material defects about their property and cannot hide information like a mold problem and any frequent water intrusion, such as a wet basement, etc.
Can You Remove Mold on Your Own?
Quite a few DIY methods exist for black mold detection and removal, but they are rarely the best options. It is important to understand that removing black mold yourself improperly can worsen the situation and put the well-being of you and your family at risk.
You should contact a mold inspection contractor as soon as possible if you experience cold-like symptoms, itchy eyes, or respiratory problems. Hiring a team of professionals with a lot of experience is an excellent way to ensure that your home and property are completely mold-free.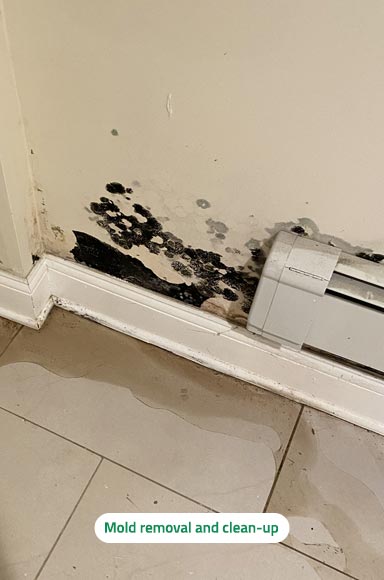 What are the Steps Followed by Us?
Mold Inspection
The first step is to perform a mold assessment inspection. This involves determining where moisture is coming from, determining the overall impact, evaluating the affected material, and devising a preventative maintenance plan. This information is then compiled into a final written report, which includes recommendations regarding mold remediation (mold removal).
Mold Testing
There are several tests for mold toxicity options, including air-o-cell tests and swabs to identify the types and concentrations of mold in an environment. In most cases, if you can already spot mold, there is no need to conduct a mold test. The mold simply needs to be removed. The severity of the mold in your home will determine which tests to conduct. Here are a few of them.
Mold Remediation
If you hire Tulip Carpet Cleaning of Hoboken mold remediation professionals to handle the job, these are some of the steps they would take after the black mold test:
Contain the mold and prevent it from spreading
Eliminate spores from the air by using air filtration techniques
Remove any wet or mold-damaged porous materials
Disinfect and deodorize the surfaces with antimicrobial treatments
Renovate the walls, ceilings, and flooring
Why Choose Us for Mold Mitigation
Our Tulip Carpet Cleaning of Hoboken professionals understand the risks and concerns associated with black mold removal, and we will design a treatment plan that fits your household's needs without breaking your budget. Whether you got stains on upholstery, carpet, or rugs, we can help you get rid of them and make your old property look brand new again. Moreover, we can get rid of all kinds of harmful pests so that you breathe cleaner air.
We, at Tulip Carpet Cleaning of Hoboken, use advanced technology, which means we can guarantee that our equipment will make your home safer for you and your family.
Moreover, give us a call and get a free estimate! We'll come right to your apartment or office and give you the consultation you need, making it easy for you to find out exactly how much cleaning your property needs and how much it will cost.
This is all available at an affordable price - you won't find a better deal anywhere else. Find out how wonderful your house can look by calling Tulip Carpet Cleaning of Hoboken today at 201-642-2002!