Professional Rug Cleaning Service in Hoboken, NJ
Having rugs in your home or office gives the environment an appealing look. However, there is nothing less appealing than rugs that are stained and dull looking from age. Tulip Carpet Cleaning of Hoboken offers professional rug cleaning services that will bring life back to your dull and dirty rugs. Whether you need stubborn stains removed or want to freshen your area rugs, we have you covered.
Who We Are
We are a professional rug cleaning service provider who services the Hoboken, NJ area, as well as nearby surrounding areas. Our customers range from commercial offices to residential homes. Our steam cleaning service is one of the top options for cleaning area rugs and wall to wall carpeting in the home or office. Steam cleaning is the preferred method of major rug manufacturers, as it prolongs it's lifespan. This is because hot water is used rather than harsh chemicals, which can break down rug fibers over time and cause them to degrade. Steam cleaning gets deep down into the area rug to deep clean your rugs leaving them brighter and keeping them in great shape.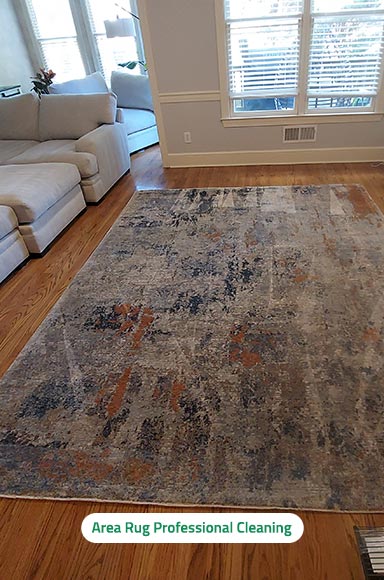 Why Choose Tulip Carpet Cleaning of Hoboken?
There are many reasons why our customers have come to us to have their rugs cleaned, such as:
moving into a new home
health issues
cleaning rugs after tenants have moved out
removing spots and stains
keeping high traffic areas pristine
or just for regular care and maintenance
We are one of the industry leaders in eco-friendly rug cleaning and care. Our technicians are highly trained in all methods of rug cleaning and we use protective cleaning methods that are allergen-free, organic, and eco-friendly.
If you have pets or young children, you know how often they are in contact with the floor. The last thing you want is to have a bunch of chemical cleaning agents on your rug, which can cause rashes and skin irritation. Our eco-friendly service means you don't have to worry about your pets and young children being on the rug once it's dry.
We also offer on-site rug cleaning and a local pickup service to make booking your rug cleaning needs stress free. We are a trusted cleaning service provider in Hoboken, NJ and use only top of the line equipment. You'll also find that our customer service goes above and beyond what most would expect. We are committed to giving you the best professional cleaning experience.
The Risks of Having Dirty Rugs
Many people aren't aware of the risks of having rugs and carpets that aren't regularly cleaned. As well as sofas and mattresses, rugs can hold allergens, old skin, pet hair, mold, and dirt, all of which become trapped in the rug fibers. As you walk around on your rugs or vacuum, these particles get released into the air. This can cause respiratory issues, allergies, and skin irritation.
Our immune system works hard every day to fight off toxins and germs in our environment. When you are living in an unclean environment, your body must work harder to keep you healthy, which can tire and weaken the immune system. This can be detrimental for those who already have a weakened or developing immune system, such as babies, the elderly, or those with chronic health issues.
If you have pets, it's important to have your carpets cleaned regularly to prevent disease. Feces, urine, and dirt tracked in from outside can be host to all kinds of bacteria. You also have the added risk of ticks, fleas, and damp. Damp can lead to mold growth, which can lead to allergies and other illnesses.
Benefits of Using a Professional Rug Cleaning Service in Hoboken, NJ
Professional service providers, such as Tulip Carpet Cleaning of Hoboken, know the carpet cleaning industry and how to properly care for all kinds of rugs and carpets. You can be confident that we will effectively remove stains and dirt while keeping your rug protected. Professional services know how to use a professional approach from your first consultation to aftercare. We've successfully cleaned many rugs and carpets in your area and clients have been highly impressed with the results we have achieved.
As professionals, we aim to reach a certain standard and are always keeping up to date with what is going on in the rug cleaning industry. This means keeping our staff trained and up to date as well. With our professional rug cleaning service, you can rest assured that our staff is trustworthy, efficient, and will make the entire experience stress free.
Our Range of Services
We have experience in cleaning a range of carpets and rugs, including oriental rugs and area rugs. We offer a number of services, including hot water extraction, rug care and maintenance, deep cleaning, pet odor removal, rug protection, and stain removal. We know that not all rugs can be treated the same, with some needing specific care and attention. When you have your carpet cleaned by our expert team, you know you are getting the best professional service in the Hoboken area.
If you need a highly professional rug cleaning service provider that can give you a stress-free and enjoyable experience, look no further. We are confident that you will be happy with the results that only we can provide your home or office. Give us a call at 201-642-2002 today!
Rug Cleaning FAQs
How do your rug cleaning services in Hoboken, NJ differ from other local providers?
Our rug cleaning services in Hoboken, NJ stand out due to our specialized approach and attention to detail. We understand that rugs come in various materials, textures, and designs, requiring specific cleaning techniques. Our skilled technicians are trained to assess the unique characteristics of each rug and employ appropriate methods, ensuring thorough cleaning while preserving its quality and integrity. With our expertise and use of gentle yet effective cleaning solutions, your rugs will be left fresh, vibrant, and revitalized.
What is the recommended frequency for professional rug cleaning in Hoboken, NJ?
The frequency of professional rug cleaning in Hoboken, NJ depends on factors such as foot traffic, presence of pets, and environmental conditions. As a general guideline, it is advisable to have your rugs professionally cleaned every 12 to 18 months. However, heavily used or soiled rugs may require more frequent cleaning. Our experts can assess the condition of your rugs and provide personalized recommendations to maintain their cleanliness and longevity.
Can you guarantee the safe and effective removal of stains and odors from rugs in Hoboken, NJ?
Absolutely. Our rug cleaning services in Hoboken, NJ include the effective removal of stains and odors. We utilize advanced cleaning techniques and industry-grade products that are safe for your rugs and environmentally friendly. Our skilled technicians are trained to tackle a wide range of stains, including pet stains, food spills, and more. Additionally, we employ deodorizing treatments that neutralize odors, leaving your rugs smelling fresh and clean. Rest assured, we strive to deliver exceptional results in stain and odor removal for your rugs.