The Importance of a Mold-Free Environment
Whether you've recently started experiencing symptoms of mold allergy like sneezing, noticed a sudden change in indoor air quality, or evident white or black mold spots, the worst you can do is to ignore these signs. Getting a mold inspection, testing, or removal is now easier than ever with our mold services at Tulip Carpet Cleaning of Hoboken.
We understand that dealing with mold contamination is stressful, but a step towards mold remediation in Hoboken, NJ, is a good decision for both the occupants of your house and the integrity of your entire home or business premise. A mold-free indoor environment is crucial for our well-being.
The Mold Situation
Thousands of businesses and households in Hoboken, NJ, are struggling with moisture issues and mold exposure each year. This results in expensive mold damage repair and hospital bills, which nobody needs. In fact, this is the current situation across the entire U.S. According to statistics from 2017, more than 45 million buildings had reported toxic levels of mold, and things are only getting worse. Luckily, professional mold removal is here to help get this situation under control.
The Dangers of Mold
Mold is categorized as fungi, and in the natural environment, it helps digest organic material like dead leaves, bringing back nutrients to the soil. However, human exposure to indoor mold can be dangerous. Mildew and black mold pose a great risk to humans, pets, and buildings. Some of the common dangers of mold include:
Structural damage to your property
Mold poisoning in pets
Weakening of the immune system
Risk of complications to those with allergies
Breathing problems like asthma, sinusitis, pneumonitis, and bronchitis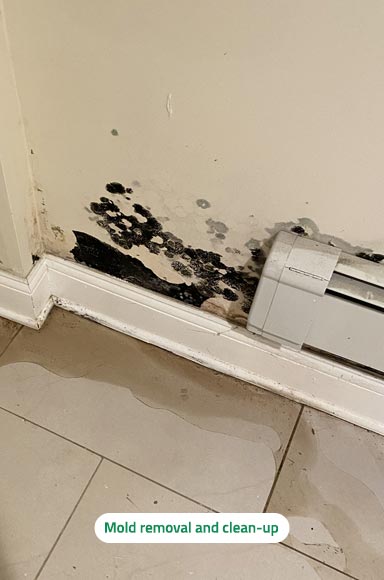 The Symptoms of Mold Exposure
Most often, people struggle with mold-related symptoms without knowing the underlying cause because mold spores are invisible. In such cases, reaching out to a mold inspector to inspect or test your property for mold could be a good idea.
According to CDC, living or spending extended periods of time in buildings with mold can lead to various mold symptoms after just a few days. Things can even get worse when the mold levels are extensive. These symptoms include:
Skin rash and irritation
Sore throat
Irritation of the eyes and lungs
Wheezing, coughing, and sneezing
Congestion and runny nose
Headache
How to Prevent Mold Growth
Mold thrives in moist areas with appropriate temperatures (60-80 degrees) and organic material that serves as food. That's why mold is most commonly found inside walls, insulation, upholstery, carpets, wallpaper, and fabrics. Our mold experts understand that moisture control is key to preventing the growth of mold and its spread. While our approach may vary based on the situation at hand, here's how we do it:
Identifying the Mold Problem
We will detect mold either visually or through testing. The visual inspection involves checking for visible signs of mold like black patches or spots. Mold testing consists of both air and surface sampling. The two methods ensure that don't miss any mold in the air and on various surfaces.
Fixing the Source of the Problem
One of the most important ways of preventing mold from returning in the future, is to fix the problem that caused mold in the first place. We will perform moisture readings in all the most prone areas like the basement, roof, and bathrooms, to identify any mold-causing moisture issues and have them addressed.
Procedural Mold Remediation
Once we have identified mold and fixed the source, we will begin the remediation process. Armed with state-of-the-art mold removal equipment, we will start with containing the affected areas, performing mold removal, extensive cleaning, and sanitization.
The Importance of a Mold-Free Environment
Professional mold remediation and the prevention methods we discussed above, guarantee a mold-free home, which comes with immense benefits. The benefits of mold remediation include:
Improved home and office aesthetics
Reduced contaminations that occur from mold
Improved air quality
Avoid unnecessary costly home renovations
Increased productivity at home and work
Improved health and well-being
Improvement in emotional and psychological wellbeing
Increased property value
Get Professional Help Now
Fighting mold in your residential or commercial space is not a DIY process. Mold requires immediate action, and it's always best to rely on the trained, well-equipped, and experienced experts at Tulip Carpet Cleaning of Hoboken to relieve you of the risks of mold infestation. Please fill out our online contact form or talk to us now by calling 201-642-2002 for a free consultation on mold inspection, testing, and remediation.